Projects
---

1of1 is a mission driven collection that seeks to help digital artists take their rightful place in art canon. We activate the collection through various projects and exhibitions worldwide.





Human One


1of1 was tasked by collector

Ryan Zurrer

with conducting a world tour for Beeple's signature work Human One. With tour stops worldwide, Human One is embarking on a multi-year journey through both the physical and the digital world.

Human One is the first digital/physical hybrid NFT. It is a deep meditation on mankind's first steps into the metaverse. It invokes a conversation within the observer about their own relationship between their digital identity and their physical IRL identity. This is a timely and poignant discussion to provoke at this juncture in history. HUMAN ONE is the masterpiece of the standard-bearer of the digital art movement enabled through NFT monetization, Beeple.





Castello di Rivoli, Torino

Human One debut in the museum circuit at

Espressioni con Frazioni

, a group show on "what it is to be human in a posthuman world" curated by the world renown curator Carolyn Christov-Bakargiev in Castello di Rivoli in Torino, Italy.



Carolyn Christov-Bakargiev says:
"The exhibition at Castello di Rivoli marks the museum world premiere of HUMAN ONE, 2021 (0xa4c38796C35Dca618FE22a4e77F4210D0b0350d6), by Beeple (Michael Winkelmann, b. 1981). HUMAN ONE is a kinetic video sculpture existing in both the physical and digital realms with a perpetual dynamic animation of a person resembling an astronaut traversing an ever-changing landscape. Beeple created the artwork in association with new blockchain technologies known as "smart contracts". In this case, the artist may modify the work remotely over time. Thus, the viewer will have a unique experience of HUMAN ONE each time they return to see the artwork. The person walking in an ever-changing landscape represents the first human in the Metaverse. Beeple captured the attention of the international art world and global crypto community after the Christie's auction of the artwork EVERYDAYS: THE FIRST 5000 DAYS, 2021, as an NFT a year ago, serving as a catalyst for digital art and the uniqueness that each NFT (non-fungible token) represents through the new blockchain technology of the smart contract. Later in 2021 Beeple made HUMAN ONE, which was auctioned at Christie's Evening Sale to Ryan Zurrer, a Swiss-based businessman and collector of digital art. Beeple is widely considered the standard-bearer of digital art and HUMAN ONE can be viewed as a revolutionary work of art of our times in the way the artist questions the boundaries between the virtual and real worlds."
M+, Hong Kong
Human One's follow-up exhibition currently runs at M+'s Focus Gallery. Showing alongside a major Yayoi Kusama retrospective, it's Beeple's first exhibition in Asia and runs from December 9th 2022 through April 30th 2023.
---
Unsupervised
1of1 is proud to announce that we provided leadership support for Refik Anadol's Unsupervised at the Museum of Modern Art in New York City. For Unsupervised, Refik Anadol (b. 1985) uses artificial intelligence to interpret and
transform more than two hundred years of art at MoMA. Known for his groundbreaking media works and public installations, Anadol has created a singular meditation on technology, creativity, and modern art. His installation has drawn significant crowds to the Museum's Gund Lobby and is considered an immense success by artist, museum and patrons alike.
---
Cartography of the Mind
Cartography of the Mind
was a curated online-only auction of NFTs donated by visionary artists to benefit the
Multidisciplinary Association for Psychedelic Studies
(MAPS). In collaboration with the collector Ryan Zurrer, founder of Dialectic, Christie's has assembled more than two dozen new or recently executed artworks — many of which reflect the artists' own profound experiences with psychedelics — from the studios of Beeple, Mad Dog Jones, IX Shells, Sarah Meyohas, Refik Anadol and more. Throughout the bidding window of 21-28 June and coinciding with NFT NYC, Cartography of the Mind was installed in an exhibition powered by Atomic Form at Christie's new galleries on the corner of 6th Avenue and 49th Street in addition to a side show at Times Square. Sale proceeds were donated to support the research and promotion of potentially life-saving psychedelic therapies led by MAPS, a 501(c)(3) non-profit organization founded in 1986. The auction generated total revenues of USD 1,569,960. 1of1 executed the project, liaising with artists, Christie's and collectors for both exhibition and the afterparty at artist Dustin Yellin's studio.
Images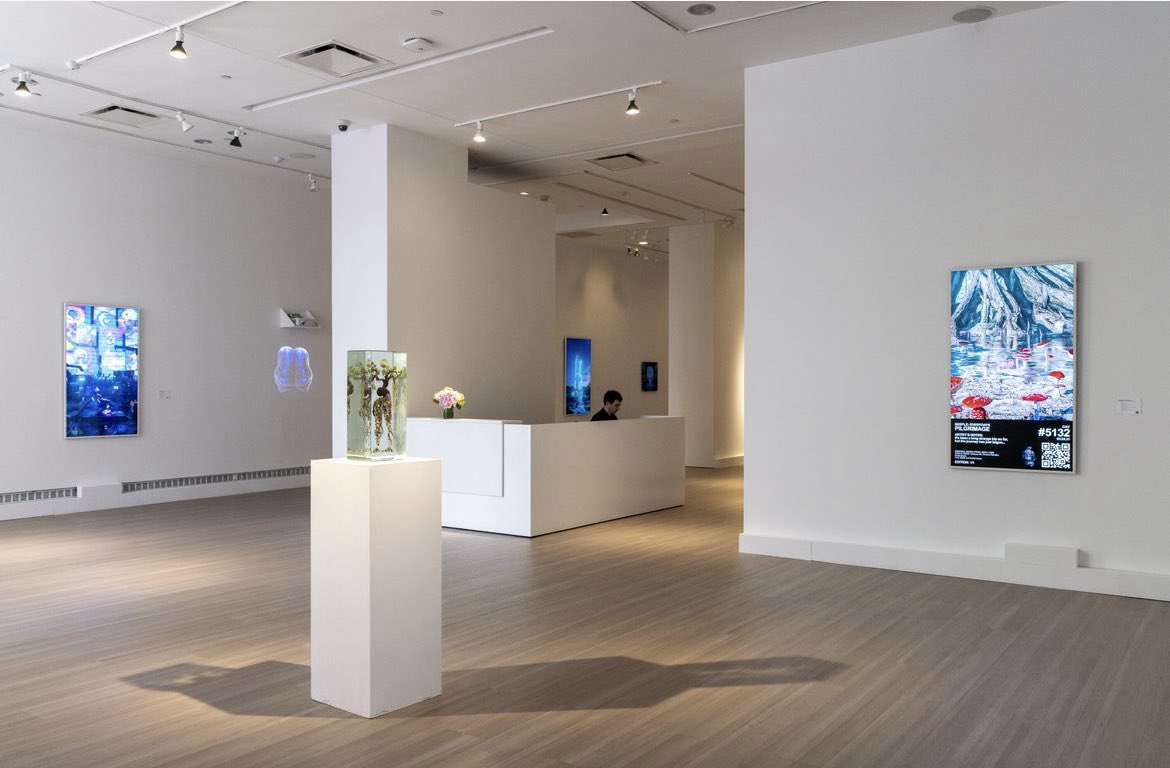 ---
NFT Berlin
1of1's debut exhibition was staged at the inaugural edition of NFTBerlin in Mai 2022.
NFTBerlin
is a non-profit annual unconference on NFTs. Inspired by the community of passionate NFT artists and technologists, we provide an open, chain-agnostic platform for learning, exchanging ideas and sharing experiences. Artists in the exhibition included Beeple, Maxim Zhestkov, Sarah Meyohas, Larva Labs, Ash Thorp, Matt DesLaurier and Forgotten Runes Wizard's Cult.
Images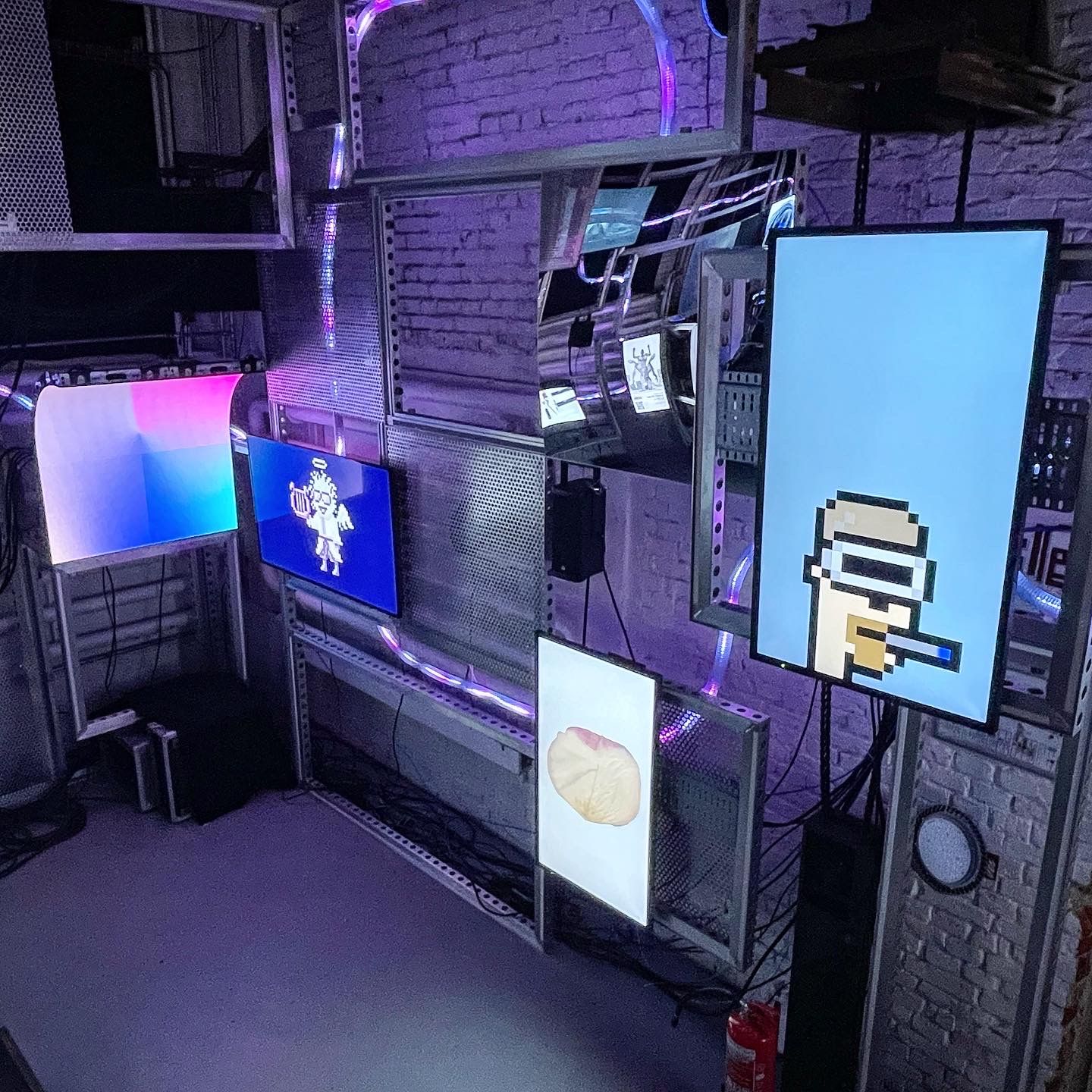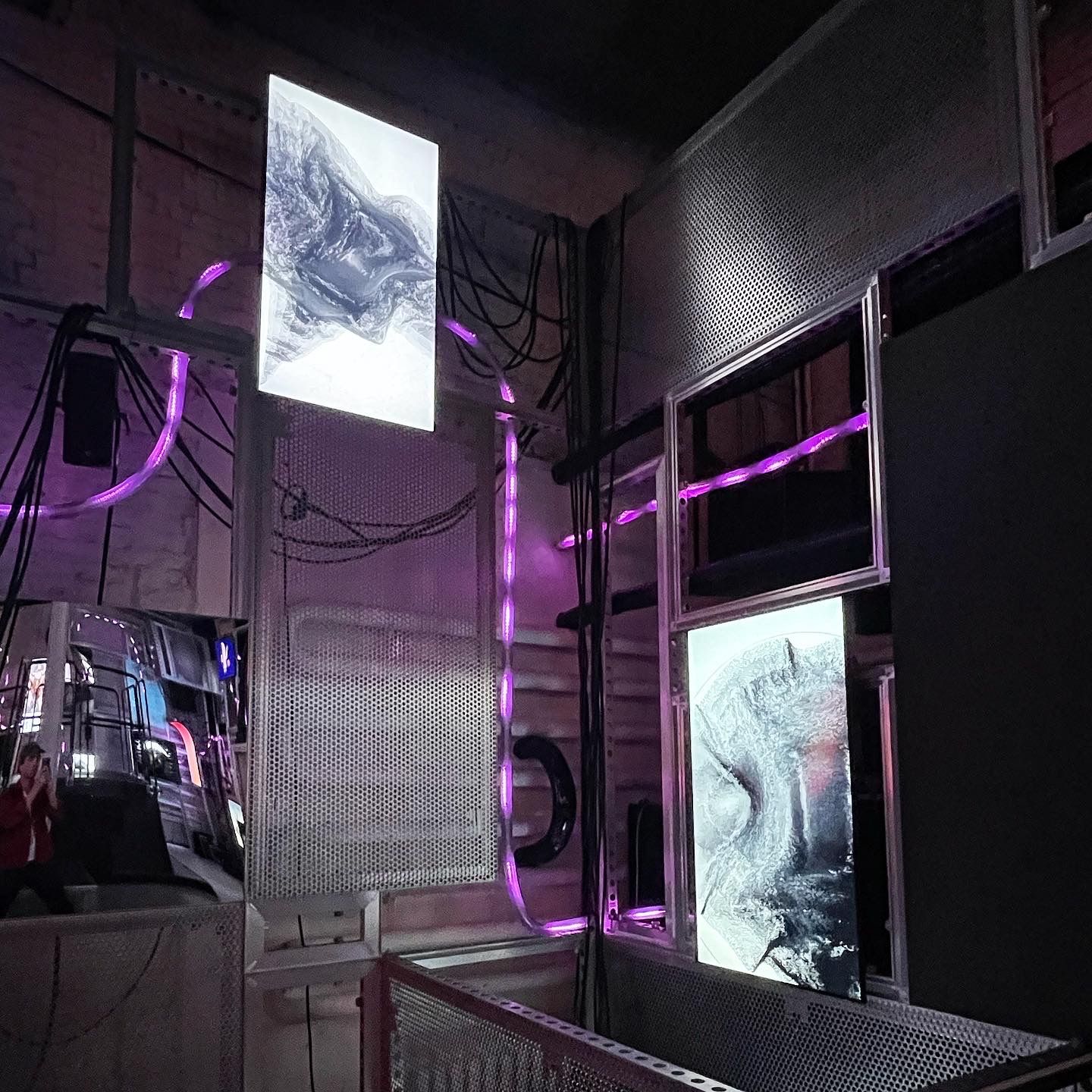 ---
NFTARTDAY ZUG
In August 2022, 1of1 presented a selection of works by Beeple, IX Shells, Refik Anadol, Maxim Zhestkov, Mad Dog Jones, Sarah Meyohas, Snowfro, Tom Sachs Rocket Factory, Larva Labs and Forgotten Runes Wizards Cult at unpaired gallery in Zug for NFTARTDAY. The show was up until September 9th.
Invitation
---